James Dean on the set of Rebel Without a Cause; Audrey Hepburn on her bike with pet dog in tow; Marlon Brando taking out the garbage; Elizabeth Taylor soaking up the sun. These are just a few of the myriad of iconic images for which Sid Avery is responsible.
Renowned photographer, Sid Avery, was one of the greatest names working in Hollywood from the 1940's to 1960's and became known for his candid portraits of the stars. He made history as the only photographer to shoot both the original 1960 cast of Ocean's Eleven and the 2001 remake, recreating his iconic group shot around the pool table.
Sid Avery was one of the biggest names in Hollywood portraiture in the 1950's and 1960's. He later also became one of the top names in advertising photography, as well as a successful commercial director. In the 1980's, he established the Motion Picture and Television Photo Archive. Avery's son, Ron, has continued this legacy and under his ownership, mptvimages is today recognized as one of greatest archives of Hollywood imagery.
Elizabeth Taylor suns herself during a break from filming on the set of the 1955 movie Giant in Marfa, Texas~
by Sid Avery
Sinatra photographed at Capitol Records as part of a series between 1954 and 1958. To everyone, he was Mr Sinatra but to Sid he was just 'Frank'~
by Sid Avery
Audrey Hepburn photographed on the Paramount lot in Los Angeles with her little dog Famous in the basket~
by Sid Avery
Frank Sinatra: by Sid Avery
Humphrey Bogart with pregnant wife Lauren Bacall and son Stephen at their Californian home in 1952~
by Sid Avery
Steve McQueen traveling down California's Nichols Canyon in his 1957 Jaguar XKSS. Avery joined him despite the PR man's warning, 'Don't go in that car. You'll pee in your pants'~
by Sid Avery
James Dean photographed on the set of Rebel Without A Cause at Griffith Park Observatory, 1955. Many of the pictures of him romancing Natalie Wood on set were lost~
by Sid Avery
Marlon Brando playing the bongos at his Hollywood home in 1953 who Avery said was 'very relaxed ~
by Sid Avery
'
Brando taking out the trash by Sid Avery
In an interview in 1990 with ''CBS This Morning,'' Mr. Avery told of a photo shoot in Mr. Brando's home.
''I finally got to the point where I said, 'I'd like to take a picture of you in the kitchen, but your kitchen is so dirty.' It was up to your chest in old bags and paper cartons and ants and a lot of other things. I don't think he'd ever cleaned it, and I hinted, 'If you'd just clean up your act a little bit, then we could take pictures.' ''
Among the results were the photo of Brando and the garbage.
Elizabeth Taylor and Rock Hudson photographed on the set of Giant, 1955
Paul Newman and Joanne Woodward photographed at home in Beverly Hills, 1958 where they invited the photographer in 'like an old friend
by Sid Avery
Dean Martin by Sid Avery
Yul Brynner photographed at his Beverly Hills home playing with a prop from The King and
1958
Yul Brynner
by Sid Avery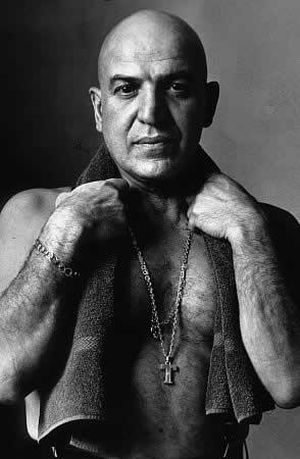 Telly Savalas
by Sid Avery
Dean Martin by Sid Avery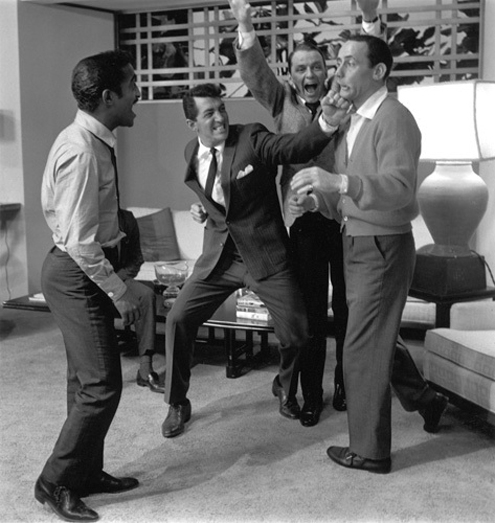 The Original

Rat Pack

was a group of actors originally centered on

Humphrey Bogart

. In the mid-1960s it was the name used by the press and the general public to refer to a later variation of the group, after Bogart's death, that called itself "the summit" or "the clan," featuring

Frank Sinatra

,

Dean Martin

,

Sammy Davis, Jr.

,

Peter Lawford

, and

Joey Bishop

, who appeared together on stage and in films in the early-1960s, including the movie

Ocean's 11

.

Sinatra, Martin and Davis were regarded as the group's lead members. ~
by Sid Avery
Steve McQueen by Sid Avery
Rock Hudson by Sid Avery
Dean Martin by Sid Avery
James Dean~
by Sid Avery
Sid Avery on Oceans 11 from minuco on Vimeo.
The cast of the original Ocean's Eleven movie on set in 1960 with (from fourth left) Sammy Davis Jr, Frank Sinatra and Dean Martin ~
by Sid Avery
5555 Melrose Avenue, Hollywood, California, 1957:
Audrey and Famous at Paramount Studios. Photo by Sid Avery.