William Klein (born in NYC, 1928) is ranked 25th on Professional Photographer's Top 100 Most influential photographers.
William Klein grew up in New York and, as a painter, went to work in Fernand Leger's Paris studio. He became interested in photography to record movement in his paintings and began using a camera. He was soon photographing other interests, and in 1954 his work was seen by American Vogue art director (and sculptor) Alexander Liberman, who offered him a contract as a fashion photographer. Liberman saw in his work a fresh approach and one that seemed to have a certain violence that would move the magazine away from the 'polite' images of
Cecil Beaton
.
Because Klein did not know how to use a studio, he took the models out onto the streets to photograph. Later he pioneered the use of wide angle and telephoto lenses for fashion work. Klein's photo-reportage style involved a rejection of the established notion of the photographer as a 'fly on the wall', an unseen recorder of events. Klein recognized this and through his methods emphasized the interaction between photographer and subject, oftentimes almost pushing his wide angle camera lens into people's faces.
He went on to produce a book, New York, New York (1956) which featured this quick reflex 35mm street photography with a graphic design and text reflective of the New York Daily News and cheap advertising. This was followed by later books on Rome (1960), Moscow (1964) and Tokyo (1964).
Klein also made a number of movies, starting with one of the first Pop films, Broadway by Light. In 1962 he gave up still photography (except for a few fashion pictures for Vogue) to produce films on Muhammed Ali and Little Richard, the Vietnam War, and experimental films Mr Freedom and Who are you, Polly Magoo, a satire of the fashion industry
Klein returned to still photography circa 1980, mainly photographing people in crowd situations using an extreme wide angle lens. [
via art-miami.com
]
Klein has had solo and group exhibitions including Prints 1955-2007, Howard Greenberg Gallery, New York, galleria Carla Sozzani, Milan, Italy and Rand Manège, Moscow. Klein's work is in the collection of The Guggenheim Museum, New York, J. Paul Getty Museum, Los Angeles, Metropolitan Museum of Art, New York, Museum of Modern Art, New York and the Whitney Museum of American Art, New York.
With a major Tate Modern exhibition currently celebrating his work, BBC spends time with William Klein to discover the irrepressible, charismatic personality behind a remarkable creative life in this fascinating documentary. Enjoy!
"I came to photography from the outside, so the rules of
photography didn't interest me." William Klein
Smoke & Veil - William Klein for Vogue - 1958.
© William Klein
I photograph what i see in front of me, I move in close to see
better and use a wide-angle lens to get as much as possible in the frame."
William Klein
William Klein,
Selwyn, 42nd Street, New York
, 1955.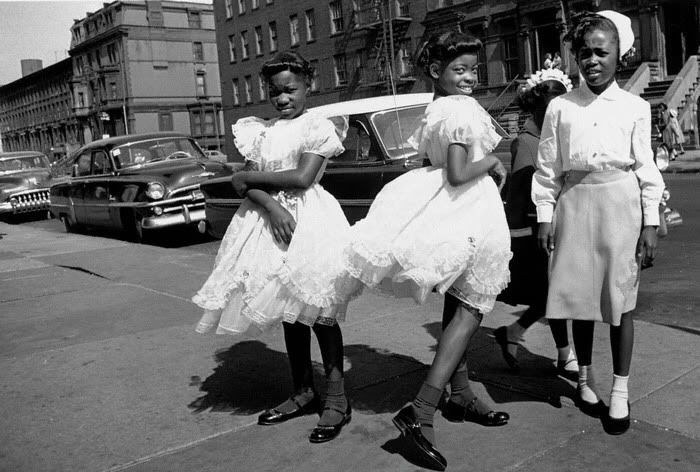 "In the 1950s I couldn't find an American publisher for my New York pictures," he says. "Everyone I showed them to said, '
Ech! This isn't New York – too ugly , too seedy and too one-sided
.' They said '
This isn't photography, this is shit!
'" – William Klein (1981)
Regarding his street photograohy : "People would say, 'What's this for?" I'd say, '
The News
.' 'The News! Wow! No shit!' I didn't much care." ~
William Klein
Moving Diamonds, mural project, Paris, 1952
Red Light and Vespa, Rome,

1956
NYC 1954

© William Klein
As well as painting and photography, Klein is also remembered as a film-maker (In 1956, a 28–year old William Klein arrived in Rome to assist Federico Fellini on his film
Nights of Cabiria
[1957]). His most notable feature being the 1969 documentary on Muhammad Ali,
"Muhammad Ali: The Greatest."
Paris 1960
Evelyn + Isabella + Nena + Mirrors, New York
Vogue, 1962
Nina and Simone, Piazza di Spagna (Rome), 1960
Vogue US, April 1960
Photographer: William Klein
Tatiana, Mary Rose and Camels, Picnic, Morocco, 1958
Hat + 5 Roses, Paris (Vogue), 1956
Photographer: William Klein
Model: Barbara Mullen