Chinese photographer Lu Guang spent nearly 40 years documenting the effects of environmental destruction in rural and industrial regions of China. Then, in November, he disappeared.
Lu, who lives with his family in New York, returned to China to lead a photography workshop in late October. The region he was visiting, Xinjiang, is the location of detention sites holding hundreds of thousands of Muslim prisoners. About a month and a half after his disappearance the Chinese police informed Lu's family that he had been arrested, his wife told the New York Times.
Forty-seven journalists are known to be imprisoned in China as of the end of 2018, says Steven Butler, the Asia program coordinator for the Committee to Protect Journalists (CPJ) [via
National Geographic
]
"We don't know the precise reason why Lu Guang was arrested," says Butler. "However, he was an independent-minded journalist who had, among [other] things, documented environmental degradation that authorities might have found offensive."
See some of Lu Guang's shocking pictures China doesn't want you to see below
©

Lu Guang
Wuhai Chemical Plants Inner Mongolia 2010 © Lu Guang
Denim processing village Xintang in Zengcheng city Guangdong 2010 © Lu Guang
Dalian Oil spill Liaoning 2010 © Lu Guang
The pipeline of the Newport Oil Wharf of Dalian Bay exploded, sending untold gallons of oil into the sea. Many fishing boats were "assigned" to clean up the oil contamination.
Assigned by Greenpeace to the area, Lu Guang documented the environmental destruction and the clean-up effort in Dalian. While he was photographing the city's harbor for his assignment, a 25 year-old firefighter named Zhang Liang waded into the harbor to clear a water pump but lost his footing. Despite efforts by rescuers, Liang drowned.
The Chinese government reported the leak at 1,500 tons. Speaking to Greenpeace, Dr. Richard Steiner, professor at The University of Alaska and a specialist in oil spills, estimated the Dalian spill at 90,000 tons
Guiyu, Guangdong province, rivers and reservoirs have been contaminated. This villager is washing in a seriously polluted pond. November 25, 2005
Guang was awarded the W. Eugene Smith Grant in Humanistic Photography for his series "Pollution in China." These images were taken in various factory towns around China and Mongolia, showing how the byproducts of industry have devastated the regions.
These towns are still very much inhabited, with people living and suffering under apocalyptic conditions.
High Pollution Industry Wuhai Inner Mongolia 2006 © Lu Guang
Shizhuishan Industrial Park Ningxia 2008 © Lu Guang
Zhuzhou Industrial Park Hunan 2010 © Lu Guang
"They often wanted to confiscate my camera, I was often beaten, but until now, nothing serious has happened to me."
~
Lu Guang
Maoergou Coal Mine in Hequ Shanxi 2014 © Lu Guang
Coal mining left Hulun Buir Grassland pockmarked by sinkholes Inner Mongolia 2012 © Lu Guang
Steel Mills Tangshan Hebei 2014 © Lu Guang
Lasengmiao traditional center of Tibetan medicine now affected by polluting industries Wuhai Inner Mongolia 2008 © Lu Guang
"At the junction of Ningxia province and Inner Mongolia province, I saw a tall chimney puffing out golden smoke covering the blue sky, large tracts of the grassland have become industrial waste dumps; unbearable foul smell made people want to cough; Surging industrial sewage flowed into the Yellow River…"Lu Guang
Workers at a lime kiln in the Heilonggui Industrial District in Inner Mongolia. The woman on the left is wearing two scarves, a red one to protect her eyes, a grey one to cover her mouth. Photo: Lu Guang, 22 March 2007.
As a result of drinking polluted groundwater for years, more than fifty residents of the village of Xiakang -- including 64 year-old Wang Baosheng -- suffer from cancer and cerebral thrombosis. Linfen City, Shanxi Province. July 10, 2005.
© Lu Guang
Zhou Mao sold his blood three times in order to raise the money to send his five children to school for one semester. He has been ill for three years, and his children have now left school to take care of him.
15 year old boy from Tianshui, Gansu Province, dropped out of the school after 2
nd
grade, following his parents to Heilonggui, Industrial District. He earns 16 yuan ( $2.37 USD ) a day doing hard physical labour ~2005
"The oldest is 9, not attending school and the youngest is less than 2 years old. The children lived in a severely polluted area. Their hands and faces were always dirty ". April 10, 2005
Lead poisoning in children due to pollution is a horrific consequence Jiahe Jinjilin Hunan 2010 © Lu Guang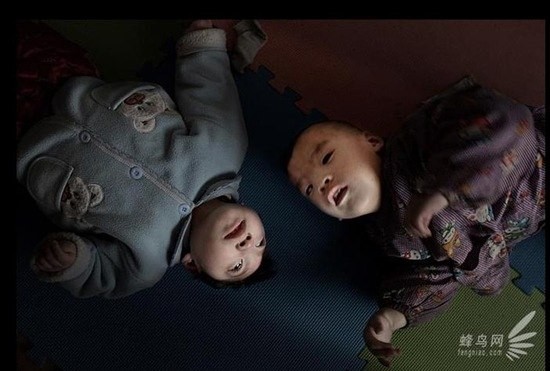 Disabled toddlers abandoned by their impoverished parents.
Farmer burying dead infant, Lankao Henan 2010 © Lu Guang
Lu Guang (2011 Photo Contest)
from
World Press Photo
on
Vimeo
.
Read more info about China's out of control pollution

here